Amaan Enterprises can supply made to order fasteners as per your print. We handle a wide range of materials and custom made fasteners. We can make your fastener in any Grade like 8.8, B7, B8, B8M, 10.9, 12.9. We also have the capability to do large runs in the tens of thousands to short runs (washers, hex cap screws, and studs products). We can also handle many different plating specifications. Amaan Enterprises can do simple zinc (including RoHS, black, yellow), black oxide, waxing and much more. We also manufacture Lock Washers in Inches Sizes. Also we mainly manufacture Studs in Grade like 8.8, B7, B8, B8M. From small miniature machine screws to large diameter hex cap screws, we can supply your part per print.
Hammer Drive Screw SS
Drive screws are designed for heavy duty fastening applications. Also known as U-drive screws, hammer drive screws, or unslotted round head screws, drive screws' rounded head style and unique construction make them strong and durable for long-lasting strength. Hammer drive screws are commonly used for attaching nameplates, wall signs, and other similar applications. Drive screws feature round, unslotted heads, multiple start threads with large helical angles, and an unthreaded pilot point. Similar to nails, hammer drive screws are driven into mating parts with a mallet, hammer, or hammer-drive device for quick and permanent assembly. No tapping threads are required in the mating part, but an undersized predrilled pilot hole is required, and the U-drive screw must be made of harder material than the mating parts.
Non-corrosive
Sturdiness
Impeccable finish
Lock Washers in Inches
We are a highly acclaimed company that offers an extensive range of Internal Tooth and External Tooth Lock Washers in Inches and mm sizes to fulfil the demands of our clients. Quality is an inseparable part of right conduct and works ethics. Highly advanced technologies and modern machines are used while manufacturing these washers. In addition to this, we are offering these washers at economical rates. Designed for use in providing increased locking force and torsional resistance, these washers are available in stainless steel, plain or zinc plated finishes. Lock washers are made for fasteners that tend to loosen from vibration or friction. They are many different types but they all try to achieve the same goal, and that is to lock a fastener in place. Washer dimensions can come in either imperial (inches) or metric (mm) units. If you do not have a specific size we manufacturer as per customer application. Washers can follow ANSI, SAE, USS, and JIS sizes as well.
Accurate dimension
Compatible
Best grade material
Customised Studs
Amaan Enterprises are instrumental in providing Studs Bolts / Studs, which is in great demand due to its high tensile strength, perfect finish and abrasion resistance. It is available in varied specifications & sizes and finds application in automobile, engineering & allied industries. Our range of is extensively used in assemblies of engine casing, motor body, valve manufacturing and pump mounting. All our products are manufactured to MIL-I 45208 standards and we have the capabilities to manufacture to ASTM, SAE, DIN and customer-defined specifications. Our experience in manufacturing studs to exacting tolerances, with standard and non-standard materials, will ensure that your part will meet your application needs and is delivered to you production-ready and on time. Contact us for a quote for your custom studs needs.
Threading Sizes: from M6 to M100
Grade: 8.8, B7, B8, B8M
Can be given with Washers and Nuts
Screw Jack
We are the manufacturer of all types of Screw Jack. We use high quality raw materials along with advanced machinery. These products are further sent for a number of quality checks in order to provide clients optimum satisfaction along with high quality products. These are used for the purpose of levelling various frame works. The product has trapezoidal threads and a black odized finishing. This product is highly sturdy and durable in nature. The types of screw jacks are:
Screw Jack with lock Nut
Screw Jack of Broader Base with Ring Lock Nut
Screw Jack with Single Side Flange with Ring Lock Nut
Screw Jack with Conical Head & Steel Body
Customised Washer
If you are looking for a washer that is not off the shelf, we can make washers specifically to the dimensions, material, and plating that you need. Our custom runs can be as low as 100 pieces all the way to hundreds of thousands. We can supply washers as small as 0.062 outside diameter all the way to 12". If you are looking for thin washer (0.002" thick) to a thicker washer, 1/2" thick, we can supply it. We can also supply the plating you need, from common zinc, zinc/yellow to magni coatings. Amaan Enterprises can do special washers in many materials, from steel, to harden steel, brass, plastic, teflon & various grades of stainless steel.
Accurate dimension
Compatible
Best grade material
Xylan Coating Fasteners
We are proud to introduce ourselves as the Pioneers in Fluoropolymer / PTFE / Fluorocarbon Coated Fasteners, Studs, Bolts, Nuts, Washers, Screws. Supplying PTFE Coated Fasteners HIGH TENSILE , STAINLESS STEEL AS PER VARIOUS GRADES. PTFE coated Stud bolts and Nuts best suited for installations in offshore platforms, petrochemical and chemical plants, installations near the sea and in corrosive environments. The resin-like bonded coating provides a low coefficient of friction and excellent resistance to many chemicals and acids. PTFE dry film provides lubricity, thus preventing galling in breaking out.
Acid Test Subjected to 720 Hours
Salt Fog Test Subjected to 720 Hours
Bromine Test exposed to Bromine Solution for 720 Hours
Caustic Test Subjected to 12.5 ph Caustic for 720 Hours
Stainless Steel Fasteners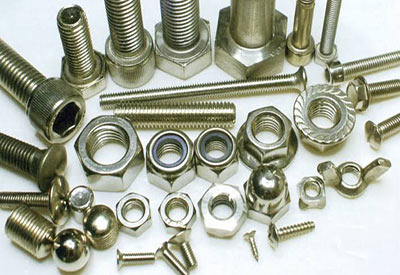 We are highly acclaimed name in the universal market for manufacturing of best quality Stainless Steel Fasteners. Each piece of our stainless steel fasteners is developed in our sound infrastructure using top grade rust resistant steel to provide the clients long life service. Our range of stainless steel fasteners is used in various industrial operations. We deal in grades like B8(304), B8C(SS 347), B8M(SS 316), B8T(SS 321), A2(SS202) and A4.
SS Bolts
SS Nuts
SS Washers
SS Hex Screws
SS Circlips
SS Split Pin / Quarter Pin
SS Allen Screws
SS Studs
SS Grub Screw
SS Rivets
Brass Camlock Couplings
Camlock coupling are simple and fastest way for making tight and leak proof connection / disconnection's manually. The product design and development is done with CAD facility. The manufacturing is done in controlled environment with state of art CNC machines, which ensures high degree of accuracy's and repeatability. The Camlock couplings are designed as per DIN – 2838 and are interchangeable, complying to US military standards MIL – C- 27487 specifications.
Non-corrosive
Sturdiness
Impeccable finish
Also available : SS Camlock Couplings / Aluminium Camlock Couplings
Non Sparking Tools / Insulated Tools
We hold expertise in offering an exclusive range of Non Sparking Tools that is broadly used in automotive industry. Under the guidance of skilled professionals, our offered Tools is manufactured using quality tested material in compliance with predefined industry standards and norms. Furthermore, this Non Sparkling Tools is duly inspected against numerous parameters of quality for ensuring its flawlessness. It is easily available with us at a reasonable price.
Amaan Enterprises is highly appreciated by the clients for offering Insulated Tools. Designed using high-grade raw material, these tools are VDE -tested. These 1000 volts insulated tools & kits are manufactured using high-grade raw material and advanced machines. The offered tools are available in various sizes that suit the diverse requirements of clients.
Customised Foundation Bolt
With an aim to establish ourselves among the most leading organizations, we are engaged in supplying an exclusive range of Special Foundation Bolt. These bolts are available in various diameters, lengths and finishes. These can be custom-build on various parameters to meet the varied requirements of our esteemed clients. Our range of foundation bolt is well-known for its various noticeable features such as dimensional accuracy, wear resistance and long service life.
Smooth surface finish
Corrosion resistance
High dimensional accuracy
Thread Protection Sleeves
Protect the surface finish of plated, polished or powder-coated parts from abrasion and corrosion with breathable plastic mesh, poly net, sleeves from Industrial Netting. The diamond pattern of our poly net protective netting allows these tubular plastic mesh sleeves to form-fit over irregular shapes. Our breathable packaging sleeves are not braided or woven and feature an integral joint structure for maximum stability and elasticity. And our poly net protective mesh sleeves are color coded by size for easy identification
In-stock for immediate shipment
Color-coded by size for easy identification
Disc Washer 50CrV4 Grade
We are actively engaged in offering a qualitative range of 50CrV4 Grade Disc Washer or Spring for catering the diversified requirements of our clients. It ranges outer diameter from 6mm to 350 mm, thickness as per Indian Standars.
We can also provide you with Test Certificate of the product.
Belleville Washer
Conical Washer
Contact Washer
Safe Lock Washer
Heavy Duty Safety Washer
Wave Washer
Plain Washer
Coil Spring