Amaan Enterprises are one of the largest Distributors of high quality industrial brushes, domestic brushes, pharmaceutical brushes, textile machine brushes, printing brushes, applicator brushes & custom-made brushes. We are one of the prominent manufacturer and supplier of quality range of Industrial Brushes. Our products are as per quality standards to fulfil the market requirements. Our clients highly appreciates these product range. Our client can avail these products at reliable price in market.Our brushes are used in both domestic & commercial textile, diary, Paper, food, pharmaceutical, automotive, construction, steel, and other industries.
Industrial Cleaning Brushes
We serve our customers by providing superior range of standard & customized industrial cleaning brushes. These industrial cleaning brushes are made using qualitative raw material such as nylon, polypropylene, animal hairs & others. The diverse range of designs, quality & shape of our products further help us meet the tastes of our clients. Our range of industrial brushes is widely acknowledged for their host of qualitative features. These brushes are made of qualitative raw materials procured from verified source. The entire range is available in different specifications that can also be altered as per the requirements set by the clients
Big roller brushes
Brass wire brushes in various sizes
Leather belt or sandwiched belt brushes
Metal channel strip brushes
Circular Brush
The circular brush is used for a broad range of industrial brush applications. Amaan Enterprises offer a range of round circular brush styles in standard sizes to fit any foreign or domestic machinery. If you don't find exactly what you require, our professional team of engineers can custom design any surface cleaning circular brush or round circular brush product tailored to your needs. Circular brushes can be used as a surface cleaning brush, polishing circular surface and any of a number of other cleaning brush industrial applications. Amaan Enterprises carries a full line of round brush styles.
Non-corrosive
Sturdiness
Impeccable finish
Twisted Circular Brush
Twisted circular brushes are made by taking a length of wire doubled over, placing bristle material in between the top and bottom of the doubled over wire & twisting it up like a rubber band. The base wire, or the piece of wire that is twisted, is made of galvanized steel, stainless steel, aluminum, or brass. Our clients can also avail of our customization services, wherein we manufacture the range of products in line with their exact specifications.
Non-corrosive
Sturdiness
Impeccable finish
Condenser & Boiler Tube Cleaning Brush
Amaan Enterprises offers a wide range of condenser tube cleaning brushes both for commercial & industrial maintenance. These brushes are self cleaning single spiral brushes for removing surface deposits from condenser tubes & other internal areas. From precisely designed brushes and cleaning tips to extra-absorbent cleaning patches, Amaan Enterprises offers only the best of the Boiler Steel Tube Cleaning Brushes. These are ideal for brushing the scale from the inside of tubes and other general purpose industrial uses.
Non-corrosive
Sturdiness
Impeccable finish
Glue Brush Or Gum Brush
Amaan Enterprises offers a wide selection of glue brushes for any viscous task. The glue brushes move glues, pastes, epoxies, or any adhesive or viscous material efficiently and economically. Tough hog bristles or short-cut synthetics stay stiff and are set in strong epoxy to resist solvents. After repeated use, just remove the bridle, clip the bristles — and you've got a new glue brush!
Non-corrosive
Sturdiness
Impeccable finish
Wire Brush
Amaan Enterprises offers a quality range of wire brushes and a wide variety of power brushes, which are heavily used for cleaning rust and removing unwanted burr from the products. These wire brushes are manufactured using following fill materials:
Carbon Steel
Stainless Steel
Brass or Bronze Wire
Nylon
Abrasive Nylon
Polypropylene
Horsehair
Tampico Fiber
Paint Brush And Roller Brush
Paint brushes are used for applying ink or paint. These brushes are usually made by clamping the bristles to a handle with a ferrule. Short handled brushes are for watercolor or ink painting while the long handled brushes are for oil or acrylic paint. Amaan Enterprises is engaged in manufacturing a quality range of roller brushes. Our range of roller brushes is widely used in steel industries. The in-house design unit carefully designs the entire range as per the latest market trends. These roller brushes can also be used for the following purposes:
Galvanizing
Degreasing
Pickling
Scrubbing
On line Processes
Clean Brush and Decking Brush
Amaan Enterprises offers an extensive range of cleaning brushes, which are manufactured using high quality materials. Our brushes are best known for their superior quality bristles. They are used for cleaning floors and are appreciated for its durability and high performance ability. Deck Brushes are scrubbing brushes that are essential for the marine environment. Each brush features a non-marking, plastic top with medium-soft bristles. Ideal for swabbing the decks of your yacht, ship, boat and/or dinghy.
Non-corrosive
Sturdiness
Impeccable finish
Custom-Made Brushes
Amaan Enterprises's philosophy is to attain complete client satisfaction through developing simple & easy to use products, custom made brushes that are high in quality & durability. To achieve the same, we maintain continuous interaction with our esteemed customers & understand their varied requirements. Our range includes strip brushes, floor cleaning brushes, thin brushes & natural fibre brooms.
Non-corrosive
Sturdiness
Impeccable finish
Textile Machine Brush
In recent years, we have witnessed a significant technological development in the textile industry. As far as textile industry is concerned, we are able to supply cylindrical, circular & linear brushes with high quality brush frames & covering materials. Amaan Enterprises supplies long cylindrical brushes, with low allowance necks & dynamic balancing, in accordance with their use in single applications ensuring excellent functionality. We supply these industrial textile machine brushes in varied sizes & also modify them accordingly as demanded by the client.
Non-corrosive
Sturdiness
Impeccable finish
Printing Machine Brush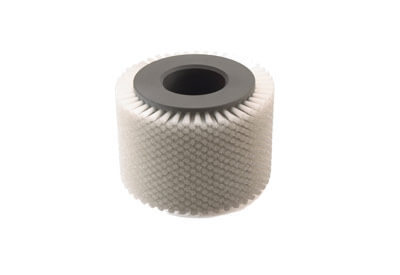 Amaan Enterprises manufactures & supplies an extensive range of industrial printing machine brushes that are made using high-grade raw material. The entire range has gained high appreciation in the industry due to its durability. These printing brushes are made in different variations for different usages. However, these industrial printing machine brushes can also be customized according to the demand of our customers. We manufacture & supply an extensive range of printing machine brushes useful in typography that are made with soft bristles with length of 1 inches. The brushes are available in different shapes.
Non-corrosive
Sturdiness
Impeccable finish
Pharmaceutical and Applicator Brushses
Amaan Enterprises provides a variety of food hygiene & food processing brushes that are suitable for use in FDA-controlled environments. These also include the pharmaceutical industries. A full range of materials can be used to cater for a wide range of applications. Special materials can be used that are resistant to cleaning chemicals and moisture absorption, which inhibits bacteria growth. Amaan Enterprises manufactures and supplies various sophisticated glue & applicator brushes required for various industries. Our range includes plastic applicator brushes, slanted hair color brushes and painting brushes.
Non-corrosive
Sturdiness
Impeccable finish