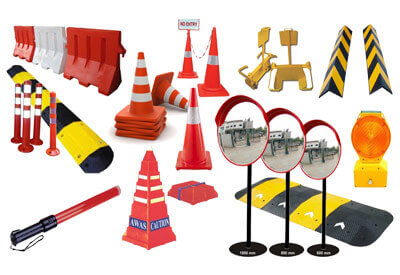 Amaan Enterprises are engaged in offering a wide range of traffice safety products to our clients that includes traffic cones, road studs, barricating taps, Permanent markers, road bumps, cats eye, solar blinker, speed breaker and many others. Our range provides clear visible traffic guidance to people in all weather conditions and wide used on roads and highways to avoid any sort of hindrance. We offer our range in various sizes, design and colors, which is acknowledged for its weatherproof, easy to install and highly durable features.
Traffic Cones
We are successfully ranked as the top manufacturer, trader and supplier of Safety Cones. The offered safety cones are given in numerous sizes as per the needs of patrons. Our offered safety cones are manufactured with best material keeping in mind the quality norms. The safety cones provided by us are well known in the market for its durability & quality.
For quick setup/ take down
Non-crushable/ Flexible/ Tear Resistant
Length: 20 - 300 mm, 3/8" to 9"
UV stabilized and made from non-fading colors
Available in various standard sizes
Spring Posts
Spring Post is made of special flexible material. It can quickly restore its original state without doing any damage to the vehicle as well as the spring post, in case of high - speed collision with the vehicles. It is very easy to install by applying epoxy. Due to the specially designed base part and strong adhesion, it is very sturdy and dose not deviate by strong impacts. Our Spring Posts are widely used in sharp curves, no entry zones, and dangerous median and U turn areas and for centre lane dividing for narrow roads and multi lanes for broad roads.
Unique design
Flawless finish
Perfect quality
Plastic PVC Chains
We are importers/ suppliers of premium quality Plastic Chains that are available in various sizes and shapes like rectangular, oval, etc. These chains are mainly used for temporary barricading at parking areas, construction sights and also to block the entry of crowd in prohibited areas
Made out of abs material
Sizes: 6mm, 8mm, 10mm
Color: red & white
"S" shape
Used in barricading the area
Speed Bumps Breakers
In wide range of our Road Safety Products, Speed Bumps are very popular which are used for reducing speed of vehicle for traffic control. Our speed bumps are manufactured by using sturdy plastic which leads to high resistance in tough weather conditions. These are available in yellow and black stripes containing UV stabilizers and reflectors on both sides. These reflectors increase the visibility of these bumps in dark night from distance. Our speed bumps are used in various places as roads, schools, hospitals, parking areas, security check posts and universities.
Color: Yellow & Black.
Sturdiness
Safety Baton Lights
Amaan Enterprises supplies a range of flashers and batons that are clearly visible from a distant. Procured from the reliable vendors, these are highly durable and are available in red and green combinations. These easy to read flashers and batons can easily catch the attention of all and comprehend within a fraction of seconds. Each model series runs either on battery or Rechargaeble power source.
View Distance: More than 500 meters
Water proof
With a rope, easily handable.
Convex Mirror
Our organization is instrumental in offering superior quality Convex Mirror. These convex mirrors are available in several sizes & customized options. Our offered convex mirrors are manufactured by high grade material and modern techniques according to the industry norms. Also, customers can avail these convex mirrors at nominal price. Made up of Polycarbonate Reflective Mirrors. Body is made of ABS/Fiber/Platic. Suitable for indoor/outdoor use with hood.
Light in weight
Crack resistance
Easy to install
Wind Sock with Stand
Our wind sock made of polyester cloth having alternate red & white colour strips combination with inner lining. Length of sock 6ft long. One end having dia slightly more than 2 ft with heavy duty eyelets at equal distance for fixing arrangement with rope and & other end narrow down to more than 1 feet. A nylon cord for tying the cloth with ring through eyelets will be provided. Wind sock is extremely useful for various type of industries to indicate wind direction.
Sugar Mills, Refinery, Fertilizers
Textile, Fibre,Pharmaceuticals, Paint
Steel plant, Chemicals etc.,
Hand Metal Detectors
Our company is one of the well known companies that supply and trade a wide range of Hand Metal Detector. All these detectors are extremely robust in nature and ensure longer durability. Modern machines and latest equipments are used while designing these detectors. These detectors are easy to operate and highly appreciated by the customers.
A Pen knife will be detected at 4 inches on low sensitivity and 6 inches on optimum sensitivity
A razor blade will be detected at 2 inches on low sensitivity and 4 inches on optimum sensitivity
Vibration function enable officers work silently
Modular Barriers & Queue Managers
Being pioneers in the industry, we offer bulk of Modular Barriers to our patrons. Our offered products are highly demanded amongst the customers across the country. These Modular Barriers are used to stop the traffic on the road. Keeping in mind the diverse requirements of our customers, we are engaged in providing large array of Q Managers. Our products are used on roads to provide safety. We offer Q Managers to the customers after testing them to ensure their accuracy.
High durability
Quality tested
Affordable
Road Barriers & Road Studs
These plastic water filled safety barriers are used as temporary barricading around construction zones. These save precious storage space as these safety barriers, Road Barrier and highway barriers are stackable. Made from UV stabilised and non-fading polymer, these highway barriers, road barriers and safety barriers are a good and effective choice around construction sites. The road stud is a retro-reflective safety device used in road marking. Road Studs are particularly valuable in fog and are largely resistant to damage from snow ploughs.
Under Vehicle Inspection Mirrors
Under Vehicle Inspection mirror is used to inspect explosives/hidden threats under the vehicle. It can check all vehicles entering your premises. The length of the pole can be extended from 0.5M to 2M. Same pole used to view underneath the vehicle and over the vehicle. It is Light weight and easy to use and handle. Made of aluminum pole and Polycarbonate mirror. Easy to unfold and assemble. These equipments is made of quality mirror and steel.
Other Road Safety Products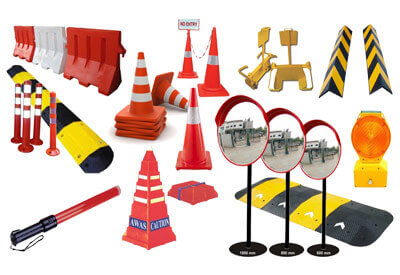 We have plenty other products for road safety like :
Electrical Rubber Mat
First Aid Box
Reflective Tapes
Floor Marking Tapes
Anti Skid Tapes
Rubber Corner Gaurds
Wheel Stopper
Safety Floor Stands
Safety Barrication Net
Median Marker
Barrication Tapes
Car Wheel Lock
Safety Jackets
Solar Road Studs