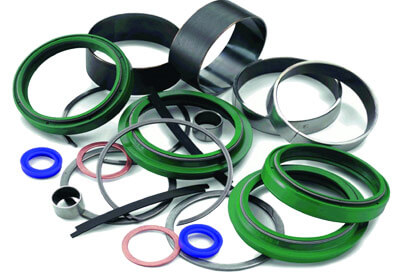 Owing to our rich industrial experience, Amaan Enterprises are able to offer a comprehensive range of industrial mechanical seals & spares and specialized engineering components such as Water Pump Seals, Series - G301 Pump Seal, Series - G155 Pump Seals, Series - G2100 Pump Seal, Series - G1 Pump Seals, Series - SB70 Pump Seals, Mechanical Seals, Split Seals, Type Mechanical Seal, Spring Seals, Wave Spring Seal, Rotary Joints, Tungsten Carbide Seal, Silicon Carbide Seal, Carbon Product And PTFE Products, Bushes And Rods, Chemical Pump Parts, Graphite Crucibles, Parts For Carbon Rings, Vanes For Rotary Pumps, Specialize Engineering Component, Pump Spare Parts, Mechanical Seal. These are manufactured using quality raw material that is procured from reliable vendors. Our range of products are widely used in various areas such as chemical, textile, pharmaceutical, fertilizers, refineries, refrigeration plant, solvent plant and dairy plant.
Oil Seals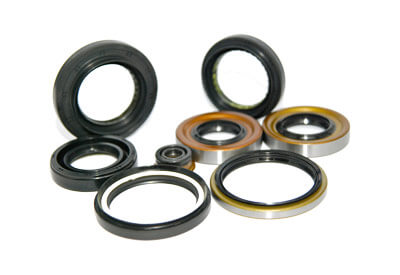 Our oil seals are imported from Taiwan leading manufacturer which are quality checked for durability. All Our Oil seals - close spaces between stationary and moving components in mechanical equipment, helping prevent lubricant escape. They also stop harmful contaminants from entering machinery, particularly in severe environments. Vital components of practically every type of machine and vehicle in operation, oil seals protect all types of precision-constructed, close-fitting ball, sleeve and roller bearings.
Our Oil and grease seals feature precision sealing designs that are matched to many original equipment or aftermarket applications.
The seals help ensure consistent and reliable performance.
Hydraulic and Pneumatic Seals
All our Hydraulic seals and pneumatic seals are designed for the reciprocating motion that is common in hydraulic and pneumatic applications, such as cylinders. Specifically our Hydraulic seals are designed for high-pressure dynamic applications such as hydraulic cylinders. Pneumatic seals are used in pneumatic cylinders and valves and generally are designed for lower operating pressures than hydraulic seals. Pneumatic applications also typically demand higher operating speeds and lower friction seals than hydraulic applications. These seals may be used for rotary and reciprocating motion.
Consistent
Reliable Perfomance
Impeccable finish
Industrial O Rings
Our O-ring, serves as superior mechanical gasket in the shape of a ideal torus; It is engineerd and designed to be seated in a groove and compressed during assembly between two or more parts, creating a complete seal at the interface. This industrial O-ring may be used in static applications or in dynamic applications where there is relative motion between the parts and the O-ring. Dynamic examples include rotating pump shafts and hydraulic cylinder pistons.
Non-corrosive
They can seal thousands of psi of pressure.
Impeccable finish
Teflon & PTFE Seal
Driven with perfection, we are engaged in catering to the variegated requirements of the customers by bringing forth Teflon & PTFE Seal. Offered mounted seals are high in demand as these are resistant against chemicals. To ensure the same, we manufacture these mounted seals by making use of the premium quality material, sourced from the certified vendors of the industry. Our PTFE seals are suitable for use in harsh environment with temperature ranging cryogenic to 300 degree celcius .
Consistent
Reliable Perfomance
Impeccable finish
Guide ring and Wear ring Seals
Our specially designed hydraulic wear ring effectively guide the piston and piston rod of a hydraulic cylinder, absorbing transverse forces. At the same time, it prevents metal-to-metal contact, optimizing the performance of the sealing system. Fabricated out of best quality and durable materials, facilitates superb quality in downstream operations viz. pressing, punching, bending and drawing and the equipments required along with the spareparts.
Consistent
Reliable Perfomance
Impeccable finish
Bonded Seal
Often used as bolt seals in hydraulic equipment, today bonded seals (commonly known as Dowty Seals) are finding usage in many and varied applications throughout industry. We offer all size ranges and material combinations . This same basic concept can be used to produce customised shapes for specific applications in any of the combinations of rubber to metal or plastic bonding.Our range is highly acclaimed in the market owing to features such as high tensile strength, dimensional accuracy, high frictional resistance and long service life.
Consistent
Reliable Perfomance
Impeccable finish
Water Pump Seals
We have been able to cater to the various requirements of clients by manufacturing, exporting and wholesaling Water Pump Seals. Under the offered range, we provide Pump Seals Series, Pump Seal Series and Water Pump Seal. These pump seals are used in water, light chemicals and viscous fluids. With an aim to meet the requirements of requisite industries, we manufacture these by making use of the high grade material under the supervision of experts. Listed below are the other details of these pump seals.
Consistent
Reliable Perfomance
Impeccable finish
Compressor Seal
Leveraging on the support of our dexterous workforce, we are able to manufacture, export and wholesale Air Condition Compressor Seal. Our professionals are the experts of this domain and manufacture these compressor seals by making use of the supreme quality material that is obtained from the trusted vendors. Prior to dispatch, our quality controllers make the provided compressor seals undergo a quality check so as to ensure the presence of outstanding features.
Consistent
Reliable Perfomance
Impeccable finish
Wave Spring Seals
Owing to our industry experience, we are able to manufacture, export and wholesale best quality range of Wave Spring Seals. The demand of offered spring seals is increasing as these are in-tandem with the industry set quality standards of the industry. With an aim to ensure the same, we manufacture these spring seals by making use of the quality assured material that are acquired from the authentic vendors of the industry. To fit the varied requirements of patrons, we provide these spring seals as per their given details.
<
Consistent
Reliable Perfomance
Impeccable finish